80+ YEARS OF QUALITY COMMERCIAL RESTORATION EXPERTISE
Your building needs the best, and that's what we are here to provide. Culbertson Company has made a trusted name for ourselves by bringing a commitment to innovative craftsmanship and overall safety to every project while achieving a great level of client satisfaction along the way. We are able to self-perform the large majority of our work and if necessary, can also collaborate with various like-minded companies for additional services outside our field of expertise, such as plumbing, electrical, and excavation in order to complete the project to your specifications.
Our professionals adhere to the belief that true achievement of excellence is a constant struggle, and we make the difference.
EXPLORE OUR ADVANCED MASONRY & CONCRETE RESTORATION SERVICES
We are proud to offer a comprehensive list of restoration masonry and concrete services for garage buildings, below grade foundation wall repairs, brick façades, and much more.
THE ONLY CHOICE FOR YOUR ROOFING RESTORATION, REPAIRS, AND MAINTENANCE NEEDS
While residential roofing is fixated on smaller and more defined spaces, commercial roofing can present a considerably larger space to cover. This ultimately requires the use of different materials, techniques, coating systems, and more. The roofs' flat design can make them more susceptible to rain and snow retention, which means they also require a greater level of maintenance and care over the years. When it comes to your commercial roofing needs, trust Culbertson Company to get the job done right.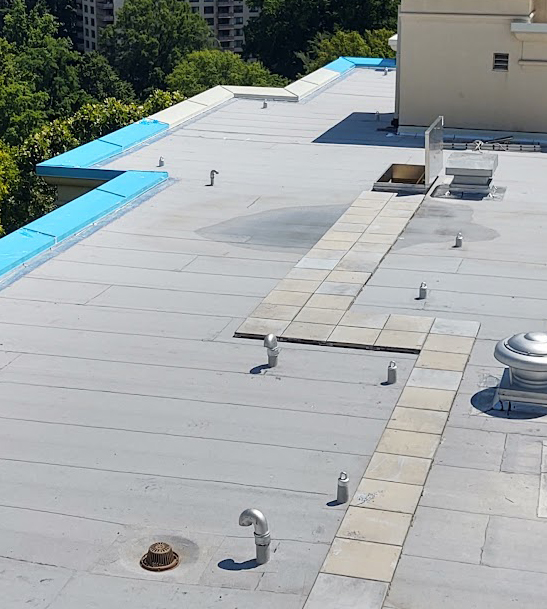 YOUR FIRST LINE OF DEFENSE AGAINST DAMAGING WATER INTRUSION
Waterproofing is essential to sealing and creating a building envelope (the physical separator between the conditioned and unconditioned environment of a building). Our vast knowledge when it comes to handling a variety of waterproofing services makes all the difference when it comes to controlling the environment of your building.
Culbertson Company helps make sure that our work  stands the test of time. We are proud to offer annual or semi-annual maintenance plans that proactively protect your investment and head off potential maintenance issues. We can inspect your building and make recommendations for a plan that would fit your needs.
SOLUTIONS TAILORED TO YOUR COMMERCIAL RESTORATION NEEDS
As part of our commitment to dependability, Culbertson Company can carry out a variety of additional repairs. We are fully equipped to handle your facade (brick, stone, and concrete) rehabilitation needs as well as sidewalk and gutter repair or replacement. We also provide garage rehabilitation services that include concrete and leak repairs, waterproofing and new coating systems. Our seasoned team of professionals can assist with mending your caulking, waterproofing, and protective coating systems as well.
Discover the experience we can bring to your next project! Whether your building is in need of façade rehabilitation, a roof replacement, or garage repair, Culbertson Company is here for you.